Model LS 1150K K-Model Spreader
160 cu.ft. capacity
Model LS 1680K K-Model Spreader
216 cu.ft. capacity
Description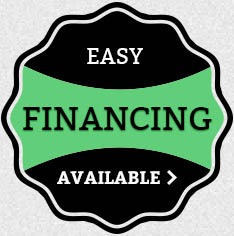 Lime & Litter Capability With A Smaller Footprint
The Lanco 1150K and 1680K models are the ideal solution for those who don't require the capacity our regular Litter models deliver.
The K-Models provide the same spread pattern and material compatibility as their larger capacity Litter/Lime counterparts with a smaller footprint. Their lighter weight means K-Model spreaders can be used in conjunction with smaller tractors, similar to the Lime models.
One look and you'll see the difference. Lanco Spreaders are what every farmer looks for. How do we know? We asked. Click below to download and view the specific product details.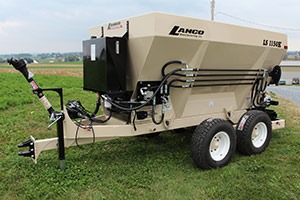 LS 1150K
160 cu. ft.
view specs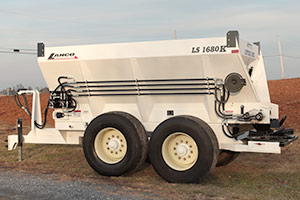 LS 1680K
216 cu. ft.
view specs
Standard Features

PTO hydraulic drive
Walking beam suspension
Max gross weight: 13,000 lbs. – 24,000 lbs.
16.5L x 16.1 Tires Standard on 8-ton model
Quick latch spinner attachment
12-volt apron on/off switch
3.25" spaced apron slats for smoother spread patterns
55 gal. hydraulic tank / 30 gal. hydraulic tank
88k chain and welded 3/8" x 1 1/2" x 29" bar; with self cleaning design
Removable spindle – for easy maintenance and less "down time"
Plus additional options including GPS electronic variable rate control
Truck mounts available