A variety of models to choose from, in 10 ton or 20 ton capacities, with sizes ranging from 355 cu. ft. up to 578 cu. ft.
Description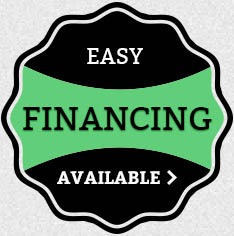 Six sizes, up to 578 cubic foot capacity.
Lanco Litter/Lime Spreaders are built in Lancaster County to world-class standards, but our first step is to listen carefully to what farmers say they need. Then we deliver extra value using the highest quality materials and uncompromising workmanship.
Rugged and dependable Lanco Spreaders come standard with PTO hydraulic drive, delivering the performance and productivity you need. Some of our models are available in both 10 ton and 20 ton configurations.
Having the right capacity litter spreader for your application can make all the difference which is why the family of Lanco Litter/Lime Spreaders includes six sizes ranging from 355 cubic foot capacity to 578 cubic foot capacity. Click below to download and view the specific product details.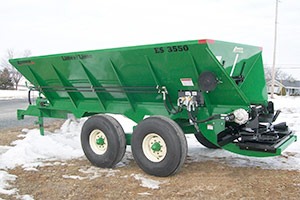 LS 3550
355 cu. ft.
view specs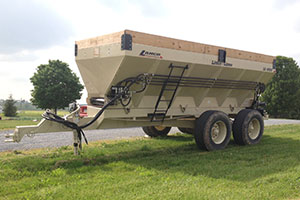 LS 4000
400 cu. ft.
view specs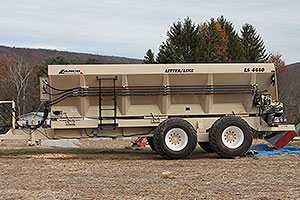 LS 4440
444 cu. ft.
view specs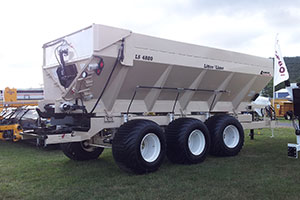 LS 4880
488 cu. ft.
view specs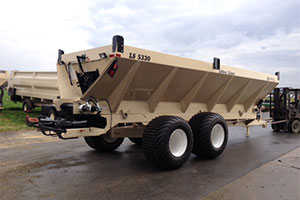 LS 5330
533 cu. ft.
view specs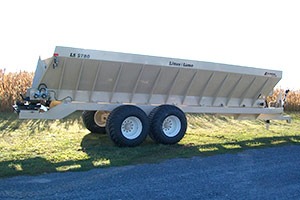 LS 5780
578 cu. ft.
view specs
Standard Features

Walking beam suspension
16.5L x 16.1 10-ply tires on 10-ton units
Quick-latch spinner attachment
12-volt apron on/off switch
PTO hydraulic drive, self-contained hydraulic system
Check valve coupler on spinners for free-wheel stopping
Double 28-inch spinner disks, made from 1/4" plate, six 10" blades per disk
34" wide conveyor
88K heavy duty pintle chain, with 3/8" thick slats
Apron slats spaced every other link (3.75") for smoother spread patterns
Heavy duty no-rust, no-rot poly floor
10,000 lb. capacity jack stand
Folding side access ladder
12" x 8" "Load-View" window
Option for GPS electronic variable rate control
Truck mounts available
Ask about 10 ton and 20 ton models